Rare Metal Shop Lineup Sale and Update!
Period : October 6 , 2017 - October 13 , 2017
Coo!!
Knights! Get ready for some unbelievable Rare Metal Shop campaigns! Not only are we adding new items, we're also holding a limited time sale!
All items in the Rare Metal shop will definitely help you on your adventure, so don't miss this sale!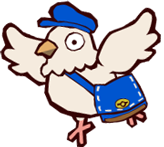 New Items Coming to the Rare Metal Shop Lineup!
We're adding new items to the Rare Metal Shop Lineup! Now you can pick up both Happy Cards – Free Passes (up to 10 per month) and Heroic Statues! You'll find these helpful on your adventure for sure, so give them a try.
Finest Ore is now Cheaper!
The price for Finest Ore is dropping from 15 Rare Metals to just 6!
This isn't a limited time campaign, this is a permanent change! Time to Level-Up your items!
Limited Time Only! Rare Metal Shop Sale!
All Items in the Rare Metal Shop are 30% off for a limited time!
Also, get 「1 Happy Cards」 – Free Pass for an especially low price!
There's never been a better time to visit the Rare Metal Shop!
You don't see campaigns like these every day… as a matter of fact, you could call them rare! Coo!!
This campaign runs from 7:00 am Friday, October 6th to 7:00 am Friday, October 13th (UTC)!