Happy Stars Galore, in Story Quest Chapter 3!
Period : January 12 , 2018 AM 7:00 - January 19 , 2018 AM 7:00 (UTC)
Coo-hoo! Knights!
Earn tons of Happy Stars with this week's campaign!
Level-up Items, remove buffs… anything you need Happy Stars for, now is the time to pick them up!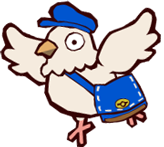 Star Galore Campaign!
Play through Story Quest Chapter 3 between 7:00 am January 12th and 7:00 am January 19th (UTC) for double Happy Stars!!
Not only that, if you play on Insane difficulty, the number of Happy Stars you receive will double once again!
That's 4 times the number of Happy Stars as normal!! Coo!!