Check out the New Fire Step Up Pack! Plus, New Awakening Forms for the Juggernaut Series!
Period : February 2 , 2018 AM 7:00 - February 16 , 2018 AM 7:00 (UTC)
Coo-coo!
Pierce through the Dungeons with the popular
Juggernaut Series! Unlock new Awakening forms for even more power!
If you haven't gotten your talons on a Juggernaut Set, fret not! Starting February 2nd you can grab the all-new
Fire Step Up Pack!
This Pack is perfect for fighting the wind enemies in the upcoming February 9th Event! Not only are fire Items more likely to appear in this Pack,
Tiers 1 and 3 also feature special bonuses!
Available
7:00 am February 2nd, 2018 to 7:00 am February 16th, 2018 (UTC)!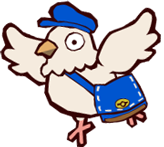 Happy Cards – Fire Step Up Pack!
This Special Pack features 3 Tiers of 10 card Packs.
Tier 3 guarantees 10 Equipment Items, with at least 1 Legendary Item!
Plus, all Legendary Items in Tier 3 will be fire-element!
Set your foes alight with the Fire Step Up Pack!
Fire Step Up Pack Tiers:
Tier
Cost
Bonuses
Tier 1
100 Jewels
10 card Pack

at half-price!

Tier 3
200 Jewels

All Legendary Items in this Pack are fire-element!


At least 1 Legendary guaranteed!
※After completing Tier 3, Step Up bonuses will no longer be available.
This Pack will act as a Happy Cards – Fire Pack after Tier bonuses are completed.
Check out the New Awakening Forms for the Juggernaut Series!
Juggernaut Series Awakening forms

Base

Triple Chainsaw

Awakened

Triple Chainsaw Pro

Base

Boiler Heart Armor

Awakened

Boiler Heart Armor Pro

Base

Roller of Retribution

Awakened

Roller of Retribution Pro

Base

9300E Aramid Armor

Awakened

9300E Aramid Armor Pro

Base

Dual Spiral Drill

Awakened

Dual Spiral Drill Pro

Base

Mini Drill Suit

Awakened

Mini Drill Suit Pro
Increase your Strength with the Heavy Pound and Destructive Impulse buffs!
Boost your Rage count with a special buff attached to Juggernaut Series Helms!
You can raise your Rage even against guarding opponents!
Buff
Effect
Destructive Impulse
Build Rage count when destroying breakable objects or striking an enemy's guard.
Increases damage dealt while in Super or Hyper Mode.
Heavy Pound
Boosts damage to blocking enemies and breakable objects, and sometimes sends enemies flying. Reduces your movement speed.
The helms aren't the only pieces that increase attack power, the other Equipment Items also hold damage boosting buffs!
If you're the kind of knight who thinks might makes right, then muscle your way through your opponents with the lumbering Juggernaut Series!