All-New Ice Step Up Pack! Finally, the Frozen Dusk Series Awakens!
Period : March 16 , 2018 AM 7:00 - March 30 , 2018 AM 7:00 (UTC)
The coo-l, dark and mysterious Frozen Dusk Series is ready to Awaken at last!
To celebrate, check out the Happy Cards –
Ice Step Up Pack
from March 16th!
Prepare for the March 23rd Event Quest and fight
fire enemies with ice
! Tiers 1 and 3 also come with special bonuses—don't miss this Pack or you'll be left out in the cold!
Pack available from
7:00 am March 16th to 7:00 am March 30th (UTC)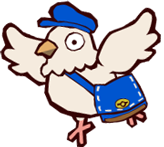 Happy Cards – Ice Step Up Pack!
This 10-card Pack features 3 Tiers! Step up to the 3rd Tier and take advantage of a guaranteed Legendary Item!
Plus, all Legendary Items that appear in Tier 3 will be Ice-element for sure!
The Ice Step Up Pack will be gone in a flash, so grab it before the spark fades!
Ice Step Up Pack details:
Tier
Cost
Contents
Tier 1
100 Jewels
A 10-card pack at

half-price!

Tier 3
200 Jewels

All Legendary Items in this Pack are Ice!


The 10th card is a guaranteed Legendary!
*After completing all 3 Tiers of the Lightning Step Up Pack, the Step Up bonuses will no longer be available.
Check out the new Frozen Dusk Series Awakening forms below
Frozen Dusk Awakening Forms

Base

Lacerating Wing

Awakened

Lacerating Wing Pro

Base

Twilight Surcoat

Awakened

Twilight Surcoat Pro

Base

Permafrost Prism

Awakened

Permafrost Prism Pro

Base

Lord of the Night

Awakened

Lord of the Night Pro

Base

Predator's Ice Cage

Awakened

Predator's Ice Cage Pro

Base

Queen of the Soirée

Awakened

Queen of the Soirée Pro
Unleash the Night Vampire Buff on each Frozen Dusk Helm!
Buff
Effect
Night Vampire
Increases HP and AP recovery, raises Fear and Stun resistance.
Weakens the effect of Healing Potions and food.
The Frozen Dusk Series grants you the power of the night with the Night Vampire buff found on each helm! Your HP and AP will restore quickly, and you'll be less likely to suffer from Fear or Stun. However, power comes with a price—potions and food won't be as effective while using this buff.
Combine this buff with other HP and AP restoring buffs to draw out the true power of the denizens of the dark!