All-New Ice Step Up Pack! Awaken the Swansong Series!
Period : May 25 , 2018 AM 7:00 - June 8 , 2018 AM 7:00 (UTC)
Put fire enemies on ice with powerful Ice Equipment Items, which are
more likely to appear
in the Ice Step Up Pack.
Plus, Steps 1 and 3 include special deals!
Available from
7:00 am May 25th to 7:00 am June 8th (UTC)!
Don't miss your chance to Awaken the graceful Swansong Series and take advantage of its powerful new Awakening Forms!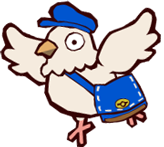 Happy Cards – Ice Step Up Pack!
This 10-card Pack features 3 Tiers! Step up to the 3rd Tier and take advantage of a guaranteed Legendary Item!
Plus, all Legendary Items that appear in Tier 3 will be Ice-element for sure!
Summer is coming, so cool off with the Ice Step Up Pack before it's too late!
Ice Step Up Pack details:
Tier
Cost
Contents
Tier 1
100 Happy Jewels
A 10-card pack at half-price!
Tier 3
200 Happy Jewels

All Legendary Items in this Pack are Ice!


The 10th card is a guaranteed Legendary!
※After completing all 3 Tiers of the Ice Step Up Pack, the Step Up bonuses will no longer be available.
New Swansong Awakening Forms

Base

Warriors' Benediction

Awakened

Warriors' Benediction Pro

Base

Swan Helmet

Awakened

Swan Helmet Pro

Base

Swan-Down Headpiece

Awakened

Swan-Down Headpiece Pro

Base

Swan Tiara

Awakened

Swan Tiara Pro

Base

Petal Prayer

Awakened

Petal Prayer Pro