The 5th Zone of the Infinite Dungeon, Sexy Prison Cell, is Now Open! So, We're Holding a Support Campaign!
A More Difficult and Sexier Kind of Dungeon!
It's almost Valentine's Day!
Spend some time with that special someone and then
hop on in to the dangerous, yet sickly sweet 5th zone of the Infinite Dungeon!
This time around, we've added floors 46 through 60, known as Zone 5: Sexy Prison Cell!
Inside this romantically lit and somewhat unsettling dungeon, you'll find some lovely ladies that gave a whole host of Knights like yourself trouble during the story: Banshees! Let's enjoy this chance encounter with a good-old-fashioned fight!
Banshee
Starting from the 5th Zone, enemies holding rarely seen Awakener Items and
Epic Rare Equipment Items will be prowling the dungeon floors! All you have to do to get them is just squeeze it out of them!!
Made good use of the Black Hole!
Black Hole!
Let's take a look at a new feature, the Black Hole!
If you strike a spot where space is distorted, you can activate the Black Hole!
However! Keep in mind, if you do try to skip ahead, you might miss out on some treasure, and there might be some incredibly tough baddies waiting for you! So be careful when and where you use the Black Hole!
This campaign will help you finally beat that level that you just can't seem to clear!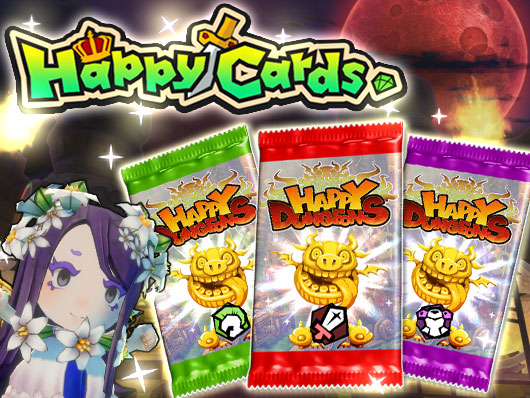 Power-up!
The 5th zone looks better than ever, but you better believe the enemies will be stronger than ever too! If you think the beefed-up attacks from upcoming enemies will be too hot for you to handle, then we've got just the campaign for you!
tarting now, for a limited time, you'll be able to purchase Happy Cards packs with a higher chance than normal of getting your choice of Weapons, Helmets or Armor! Not only that, but Happy Star costs at the Smithy are 30% off!
For more details,take a look at this snazzy little article!