We're Celebrating our First Anniversary with 3 BIG Campaigns!
Period : August 4 , 2017 - August 18 , 2017
As always, thank you for playing Happy Dungeons!
Due to all of your incredible support, we've reached
the 1-year mark since Happy Dungeons
was released for Game Preview!
Woo–hoo!
To show our appreciation for our wonderful players, we're launching three big campaigns—at the same time!
To our new knights, you joined at a great time! Welcome, and please enjoy the festivities!
Anniversary Campaign #1: Happy Cards – Anniversary Legend Pack
As the name suggests, the Anniversary Legend Pack guarantees at least 1 Legendary Item!
The Anniversary Legend Pack contains 10 for 500 Jewels, and is limited to 1 pack per player. Who knows what legendary prize awaits…

Anniversary Campaign #2: Item Shop Sale Campaign
Equipment Item Sets and Customize Parts in the Item Shop are up to 50% off!
It's the perfect opportunity to get the Items and Parts you've always wanted!

Anniversary Campaign #3: Memorial Controller Accessory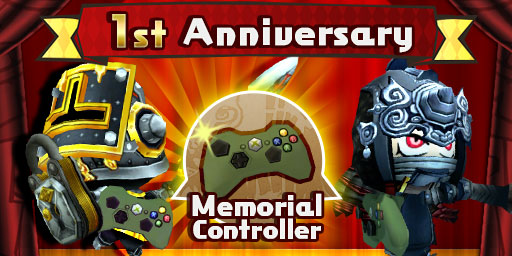 Log in during our Anniversary celebration and you'll receive the exclusive Memorial Controller accessory for free!
This accessory features both EXP Bonanza Lv1 and Happy Stars Bonanza Lv1 buffs.
Wear it on your next quest to receive more experience and Happy Stars than normal!
---
One year sounds like such a long time and yet it flashed by in the blink of an eye… Just as we've done this past year, we'll continue to put our all into Happy Dungeons, to make it the best game it can be!
Meanwhile, knights, just keep beating those unruly enemies into submission and keep searching for the Princess!
And don't worry, I'll still be here doling out news about anything and everything Happy Dungeons!
The Happy Dungeons 1-year Anniversary Campaign is available until 7 am August 18th!
*Players have until 7 am September 1st to receive their free Memorial Controller.