Get Exclusive Equipment Items in The Crimson Ogre and I!
Period : February 9 , 2018 AM 7:00 - February 16 , 2018 AM 7:00 (UTC)
Coo! Knights!
Battle a fearsome boss enemy in the latest Big Boss Rumble Event Quest!
This week, a storm is brewing, and at its center is the mighty
Crimson Ogre!!
You'll need to be clever and resilient if you don't want to be blown away by his wind-element attacks!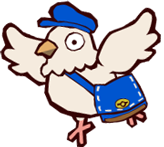 Win Fast for Fabulous Treasure!
Just like previous Big Boss Rumble Event Quests, the boss here will drop a treasure chest upon defeat.
The quality of this chest's contents depends on the speed at which you complete the Event!
Finish off the boss as fast as you can to get the best prizes, including an exclusive Warrior Set!
Event Exclusive Warrior Equipment Items!
Macuahuitl
Max Offence
8448
Max Magic Offence
7308
Buff Slots
3
Fixed Buff
Double Rage Lv2
Item to Awaken
Macuahuitl+1
Snake Macuahuitl
Feathered Serpent Helmet
Max Deffence
3072
Max Magic Deffence
2784
Buff Slots
3
Fixed Buff
Spirit Shift
Rage Power-Up Lv2
Pre-Hispanic Armor
Max Deffence
5837
Max Magic Deffence
5290
Buff Slots
3
Fixed Buff
Elemental Damage Down LV2
Spear Boost Lv7
Item to Awaken
Pre-Hispanic Armor +1
Pre-Hispanic Armor +2
Feathered Shield
Max Deffence
7680
Max Magic Deffence
6960
Buff Slots
3
Fixed Buff
Elemental Damage Down LV3
Guard Attack Up Lv3
Information
Equippable by Warrior,Cleric.
Feathered Serpent Helmet Featured Buff: Spirit Shift!
Feathered Serpent Helmet contains an exclusive buff.
Buff
Effect
Spirit Shift
Reduces elemental attack damage and resistance to fear and stun.
Increases AP recovery speed in Super Mode and Hyper Mode.
This Event Quest runs for7 days, from 7:00 am February 9th to 7:00 am February 16th!
Defeat the Crimson Ogre and collect all rewards while you can!