Spring Forth with the All-New Happy Cards – Happy Spring Pack!
Period : March 30 , 2018 AM 7:00 - April 6 , 2018 AM 7:00 (UTC)
Coo! Welcome Spring with a Happy new Pack!
The
Happy Spring Pack
is filled to the brim with powerful Items perfect for the season!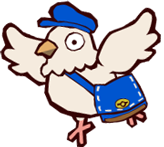 Happy Spring Pack!
At least 1 Legendary Item is guaranteed in every 10-card Pack!
That's not all! Every Legendary Item found in this Pack starts at lv 90!
Get a powerful weapon and get it fast! Spring is the time for new beginnings, knights, so start your next adventure strong!
1 Pack is 500 Happy Jewels.
Your first Pack will be 200 Jewels off, at 300 Happy Jewels!
Maximum 3 Packs per person.
*This pack is not included in the Legendary accessories.
Event runs from 7:00 am March 30th to 7:00 am April 6th (UTC)!
Welcome Spring with powerful Legendary Items!