New Knights, Assemble! On to the Hatchling Dungeon!
Period : January 24 , 2017 - January 31 , 2017
Are you enjoying Happy Dungeons in 2017!? As always, thank you for your support!
Today, January 24th, marks the start of the new event "New knights, Assemble! On to the Hatchling Dungeon!"
This event dungeon will be open until January 31st, so until then you can explore to your heart's content!

"New Knights, Assemble! On to the Hatchling Dungeon!"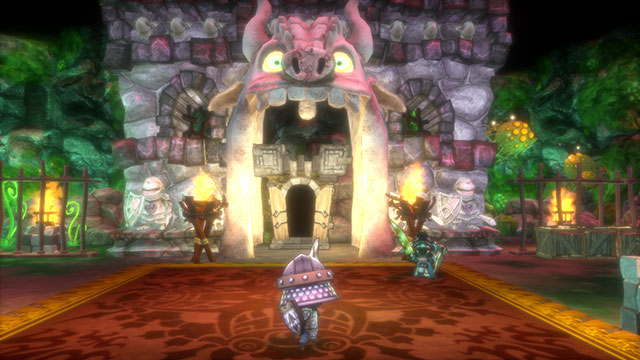 It's the entrance to the dungeon! Toss your fear aside and charge right in!
The Captain's plan to cultivate the new recruits is underway! Pummel your way through the 3 dungeons we've prepared for you to reinforce your body and equipment!
Within the dungeons themselves, you'll find drops of fire element items and ore!
Also, keep an eye out for the Hatchling Dungeon exclusive drop, Treasure Keys! Collect these and you can get some fabulous items!
Introducing the Treasure House!
Trade in those Treasure Keys like your life depends on it
The Treasure House is a place where you can
trade Treasure Keys for items
. The Treasure House is separated into several rooms, each with a set number of items.
Inside each room, you can find incredible special items! By obtaining a special item, you can move on to the next room where even more items will be waiting for you. As you advance to new rooms, the items you receive will also advance in awesomeness! Put your back into it and collect as many Treasure Keys as you can if you want tons of rewards!
*After completing this event dungeon, the Punishment Point score will be displayed, but you will not receive rewards or gain punishment points.
The fabulous rewards of the Treasure House!!
Inside the Treasure House you'll find heaps of items that are useful in Item Boost, such as
Happy Card Free Passes
and
Finest Ore
! If you continue to advance into new rooms, you may find past event Minions!
Quest release dates
| | |
| --- | --- |
| Quest name | Release Date |
| Primary School | January 24th - |
| High School | January 24th - |
| College | January 24th - |